18 Marketing and Website Improvement Resources from Mark
Educating and coaching our clients is a staple in our process, but by no means do we know it all. We're always looking to learn more, stay current with the newest ideas, and be the best marketers we can be.
I've always adhered to the idea that "no matter how good you are, there is always someone better." Below I've compiled 18 resources that I reference regularly to make the most of our clients' websites.
Here are 18 marketing resources to get you started:
---
1. Gary Vaynerchuk
Gary's passion for business is evident in every talk, keynote, blog post, and even every tweet. Below, you'll see links to Gary's blog and a recent Q&A he did with the Contently team, where he addresses the importance of social storytelling. [May contain coarse language.]
---
2. The Fizzle Guys
The Fizzle Co. guys are Corbett Barr, Chase Reeves, and Caleb Wojcik. They put together an amazingly educational and entertaining business-, entrepreneurship-, and marketing-focussed podcast and blog.
---
3. HubSpot's Inbound Hub
As a HubSpot partner, we couldn't leave out our friends. Despite offering a powerful CMS, their marketing, design, and sales education material is useful for every business, no matter which platform you use.
---
4. Buffer
I've taken a recent affinity to using the Buffer application for my daily social posting. The scheduling and analytics have got me back on track with regular social activity. Additionally, their blog is full of insightful articles that touch on everything from the psychology of Twitter to content idea curation.
---
5. Social Triggers Blog
The Social Triggers blog, by Derek Halpern, is another great marketing resource that digs a little bit deeper into the nuances of marketing.
---
6. Growth Hackers
Growth hacking is a bit of marketing buzzword at the moment, but the Growth Hackers community goes far beyond buzz and is a vibrant community for marketers looking to learn.
---
7. OkDork
OkDork is an amazing marketing resource from Noah Kagan. They're currently offering the Summer of Marketing, 12 weeks to become a better marketer. The offer is closed, but join the wait list and hopefully Noah will release the content to you later.
---
8. David Amerland
Do you think you need "SEO" services? SEO isn't what it used to be, and between David Amerland's SEO Tips and Google: Semantic Search book, you'll get an understanding of what it means to do "SEO" today.
---
9. The 50th Law by Robert Greene
This book brings together the rags-to-riches story of rapper 50 Cent with a stoic realist approach to life and business. A great read to help you stay on the leading edge.
---
10. The Power of Habit by Charles Duhigg
Although the book is meant for self-help and reprogramming your habits, it's also an excellent opportunity to learn how people operate. As marketers, that's exactly what we need to learn in order to appeal more directly to our audience.
---
Use it as a resource — there are excellent authors like the aforementioned Gary Vaynerchuk and Steven Levitt of Freakanomics notoriety publishing there — or, use it as another "medium" to share your existing content. It's a beautifully simple application.
---
12. Audible
Finding the time for learning can be difficult. I've taken to listening to audiobooks from my Audible app on my phone. It's incredible how much you can get through on your daily commute alone.
---
13. Moz
Many of you likely know about Moz, but I want to reiterate how amazing their blog actually is. No matter what your SEO skill-level happens to be, Moz has content that you can learn from.
---
14. Seth Godin
If you haven't already, subscribe to his blog. The daily posts will take less than a few minutes to read and they offer valuable insight to your marketing practices.
---
15. Randy Milanovic on LinkedIn and Social Media Today
What kind of friend would I be if I didn't let you know about Randy's articles on LinkedIn Pulse and Social Media Today? A majority of the content there is content you won't see here on our blog, so it's worth checking out these other platforms.
LinkedIn Pulse | Social Media Today
---
16. Slide Design for Developers
If you're more of web wonk than graphic designer, this quick guide can help you make PowerPoint presentations people won't want to sleep through.
---
17. Portent Blog
This is a great blog if you want some deep reading on SEO and page speed, from how to do it to showing the prospect engagement and visit session proof in analytics. It's got a friendly voice, too.
---
18. Six Pixels of Separation
This podcast is not short and sweet. The episodes stretch to one hour long, sometimes longer, but average about 45 minutes. Mitch Joel is a friendly host and the podcast itself is like eavesdropping on a chat between two marketers who really know their work. The topics vary every week, all over the marketing landscape. More great commute listening!
Do you have any suggestions? Let us and everyone else know in the comments.
---
Randy's Post on Social Media Today
In the world of social media, just as in real life, a lot of people pay attention to protecting their children and loved ones but don't give enough thought to insulating themselves from scams, snake oil salesmen, and worse. We tell young people not to share too much personal information and to be especially skeptical about the people they meet over the Internet… but how many of us adults follow that advice ourselves?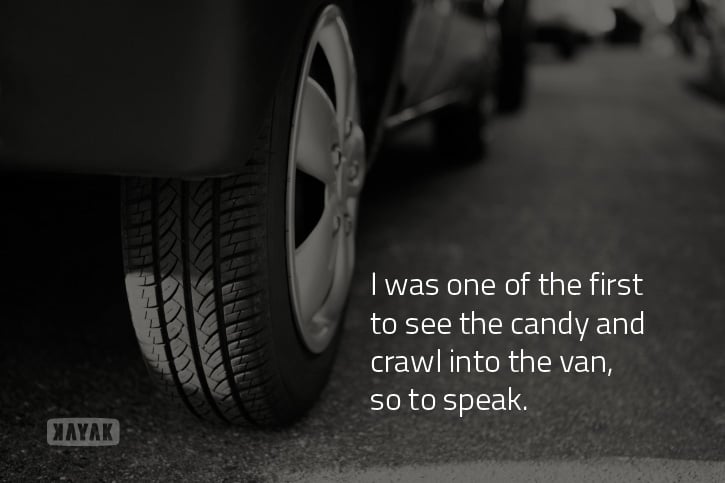 The sad fact is that not everyone is who they claim (or seem) to be. That's especially true when they're hiding behind carefully crafted social profiles and often engaging posts. And, while they might not all be out to do us physical harm or empty our checking accounts, that doesn't mean there aren't risks, or that we shouldn't be on the lookout.