SocialShakeUp14 Awesome Speaker Takeaways: Live Tweets from @kayak360
Last Week's Social ShakeUp (by Social Media Today) spawned countless quips, quotes and anecdotes from some of the industry's biggest names. Check 'em out now.
Includes: Sandy Carter of IBM, Maria Povermo of Adobe, Jonathan Davids of Influicity, Ira Haberman of Atomic Reach, Jeanette Gibson of HootSuite, Simon Pearce of Fabric Branding, Jay Bartlet of Pitney Bowes, Wendy Lea of Get Satisfaction, Jason Lankow of ColumnFive, Jeremiah Owyang of Crowd Companies, and Brian Solis just to name a few. Live tweeting by @kayak360 – let's connect there!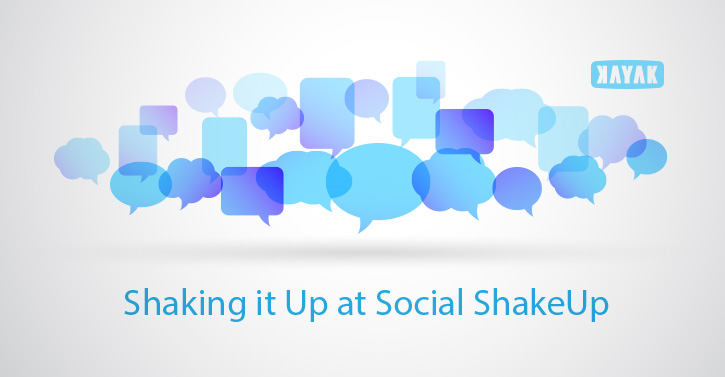 "Facebook is killing our joy." #socialshakeup commedian @CultivatedWit on FB 'Satire' tag.

— Randy Milanovic (@kayak360)September 17, 2014
#socialmediajuijitsu You can't win a twitter war. Throw niceties back. @CultivatedWit

— Randy Milanovic (@kayak360) September 17, 2014
"Who are you?" This is the only question that matters. – @baratunde #socialshakeup pic.twitter.com/v0OFs21r9Q

— Randy Milanovic (@kayak360) September 17, 2014
---
People want white glove service. @jonathandavids #socialshakeup pic.twitter.com/NplJqrjgpi

— Randy Milanovic (@kayak360) September 17, 2014
---
Takeaways: gamification, share don't hoard, community, focus on trees and forest, analytics are a must, don't wait for great. #socialshakeup

— Randy Milanovic (@kayak360) September 17, 2014
"Community is not about demand-gen… @JeanetteG pic.twitter.com/MItEphc10N

— Randy Milanovic (@kayak360) September 17, 2014
"Culture eats strategy for lunch!" @sandy_carter Heard a couple times this conference. #socialshakeup

— Randy Milanovic (@kayak360) September 17, 2014
#socialshakeup @scandelmo the computer between our ears… pic.twitter.com/KmVSbUJa36

— Randy Milanovic (@kayak360) September 17, 2014
#socialshakeup @sandy_carter says IBM has a rockstar reward for socially engaged employees (points-based)

— Randy Milanovic (@kayak360) September 17, 2014
#socialshakeup @sandy_carter Community building through gaming. Ex. CandyCrush cited as example.

— Randy Milanovic (@kayak360) September 17, 2014
#socialshakeup @sandy_carter "ROI comes from sharing expertise."

— Randy Milanovic (@kayak360) September 17, 2014
#socialshakeup @mariapoveromo "With great data comes great responsibility" pic.twitter.com/Uv1t3vmJn8

— Randy Milanovic (@kayak360) September 17, 2014
#socialshakeup "68% of social is done on mobile" – @sandy_carter of #IBM

— Randy Milanovic (@kayak360) September 17, 2014
---
#socialshakeup @irahaberman pic.twitter.com/3ZE7uNfIQK

— Randy Milanovic (@kayak360) September 17, 2014
#socialshakeup Subscription Economy: "Subscription is an always-on business model." @jonathandavids

— Randy Milanovic (@kayak360) September 17, 2014
#socialshakeup Subscriptions: @mariapoveromo A: With great data comes great responsibility." Maintain transparency.

— Randy Milanovic (@kayak360) September 17, 2014
#socialshakeup Subscription Economy: @BrentLeary Question to panel: How do you reduce attrition? @gregt12 A: SageAdvisor "opt-in" suggests.

— Randy Milanovic (@kayak360) September 17, 2014
#socialshakeup Subscription Economy: @BrentLeary Question to panel: How do you reduce attrition? @jonathandavids A: prompt users.

— Randy Milanovic (@kayak360) September 17, 2014
#socialshakeup Subscription Economy: @gregt12 and @blackalicious3 share that Social Analysis is leading customer service model refinement.

— Randy Milanovic (@kayak360) September 17, 2014
#socialshakeup Subscription Economy: @jonathandavids and @mariapoveromo We measure 'Annual Recurring Revenue' and 'customer satisfaction'.

— Randy Milanovic (@kayak360) September 17, 2014
#socialshakeup Subscription Economy: "Transactional businesses are the one night stand of business relationships." – @blackalicious3

— Randy Milanovic (@kayak360) September 17, 2014
#socialshakeup Subscription Economy: @jonathandavids of #influicity has 140,000 influencers at our fingertips

— Randy Milanovic (@kayak360) September 17, 2014
#socialshakeup Subscription Economy: @jonathandavids @mariapoveromo @gregt12 @BrentLeary AND @blackalicious3 !

— Randy Milanovic (@kayak360) September 17, 2014
#socialshakeup The Subscription Economy: @jonathandavids shares "People want white glove service." Guided subscriptions confirm value.

— Randy Milanovic (@kayak360) September 17, 2014
#socialshakeup Subscription Economy: @gregt12 The biggest challenge in moving from box to cloud: traditional sales models. Can't telemrkt.

— Randy Milanovic (@kayak360) September 17, 2014
#socialshakeup The Subscription Economy @BrentLeary – what is Kelly's handle?

— Randy Milanovic (@kayak360) September 17, 2014
#socialshakeup The Subscription Economy: @BrentLeary build your business with customer service in mind from day one.

— Randy Milanovic (@kayak360) September 17, 2014
#socialshakeup The Subscription Economy with @jonathandavids @mariapoveromo @gregt12 md @BrentLeary Can subscriptions replacing retainers?

— Randy Milanovic (@kayak360) September 17, 2014
#socialshakeup The Transformation of Customer Engagement in the Subscription Economy: @jonathandavids @mariapoveromo @gregt12 md @BrentLeary

— Randy Milanovic (@kayak360) September 17, 2014
---
The panel (L-R) #socialshakeup Social&Search mod: @RicDragon @scandelmo @irahaberman jphughes3 – What's The Science? pic.twitter.com/tMqVuf7UCG

— Randy Milanovic (@kayak360) September 17, 2014
#socialshakeup @jphughes3 "Marketers mistakenly write to the C-suite." Someone below is filtering it. (Is there an echo in here?!)

— Randy Milanovic (@kayak360) September 17, 2014
#socialshakeup Social & Search @irahaberman shares, "We are not yet crafting content to the language of our audience."

— Randy Milanovic (@kayak360) September 17, 2014
#socialshakeup Social & Search @irahaberman shares, "You need to understand the way in which your audience ingests content."

— Randy Milanovic (@kayak360) September 17, 2014
"Colloquial" – @irahaberman We don't use this enough.

— Randy Milanovic (@kayak360) September 17, 2014
#socialshakeup Social & Search @irahaberman – "Engagement is the holy grail." Attracting an audience with our content is the goal.

— Randy Milanovic (@kayak360) September 17, 2014
#socialshakeup Social & Search panelist: @irahaberman – engagement with a piece of content is #ROI. Straight up.

— Randy Milanovic (@kayak360) September 17, 2014
#socialshakeup Social & Search panel: @scandelmo – No computer can grasp the nuances the human computer between our ears can.

— Randy Milanovic (@kayak360) September 17, 2014
#socialshakeup Social & Search : @scandelmo shares "True Insight Cannot Be Delivered Through a Pie Chart"

— Randy Milanovic (@kayak360) September 17, 2014
#socialshakeup Social & Search @jphughes3 CustomerService… Is the same complaint in #Facebook, #Twitter and #CNet and your #CRM?

— Randy Milanovic (@kayak360) September 17, 2014
#socialshakeup Social & Search @jphughes3 : self-learning systems require huge users to improve. Tech needs people.

— Randy Milanovic (@kayak360) September 17, 2014
#socialshakeup Search mod: @RicDragon to @jphughes3, What do you see as the vision of search? A: Making search fluid – go beyond answers.

— Randy Milanovic (@kayak360) September 17, 2014
#socialshakeup Social & Search panel: @jphughes3 with Amazon excepted, what sites are you loving the search function on? 1 hand raised.

— Randy Milanovic (@kayak360) September 17, 2014
#socialshakeup Social & Search panel: @jphughes3 B2B may not have a lot of Twitter traffic, but they can have a lot of community traffic.

— Randy Milanovic (@kayak360) September 17, 2014
#socialshakeup Social & Search @scandelmo People are limited to reading a dozen blogs or 5 reviews before making a call. Not so with tech.

— Randy Milanovic (@kayak360) September 17, 2014
#socialshakeup Social&Search @irahaberman Creating a better body of content from an analytics perspective. Not just a word / sentence level.

— Randy Milanovic (@kayak360) September 17, 2014
---
.@jowyang #socialshakeup @robincarey asks "Where's the brand in this?" Jeremiah: it's "our" brand.

— Randy Milanovic (@kayak360) September 17, 2014
.@jowyang's collaborative economy. #socialshakeup people are doing this for efficiency and scale. Stop buying shit.

— Randy Milanovic (@kayak360) September 17, 2014
.@jowyang's collaborative economy. #socialshakeup SHARED DESTINY pic.twitter.com/kQlz6yGd6j

— Randy Milanovic (@kayak360) September 17, 2014
.@jowyang's collaborative economy. #socialshakeup QUESTION: will you have the throne or the kingdom?

— Randy Milanovic (@kayak360) September 17, 2014
.@jowyang #socialshakeup PREDICTION:, we won't be able to tell the difference between employees and customers pic.twitter.com/8nwLHLHlKZ

— Randy Milanovic (@kayak360) September 17, 2014
.@jowyang's collaborative economy. #socialshakeup Products as a service key… a "Shared Destiny"

— Randy Milanovic (@kayak360) September 17, 2014
.@jowyang's collaborative economy. #socialshakeup PREDICTION: A progressive hotel will franchise the crowd vs. AirBnB and leverage loyalty

— Randy Milanovic (@kayak360) September 17, 2014
.@jowyang's collaborative economy. #socialshakeup Rent your Lego. Your kids won't want the toys in a year.

— Randy Milanovic (@kayak360) September 17, 2014
.@jowyang's collaborative economy. #socialshakeup "Theres a //t.co/QXzwcVIIaU for everything."

— Randy Milanovic (@kayak360) September 17, 2014
.@jowyang's collaborative economy. #socialshakeup PREDICTION: We will have access over ownership. Memberships. Rentals. Services.

— Randy Milanovic (@kayak360) September 17, 2014
.@jowyang's collaborative economy. #socialshakeup Short term access reduces the need to own. Turn 'things' into services.

— Randy Milanovic (@kayak360) September 17, 2014
#SocialShakUp @jowyang #Uber is a threat to #Amazon . It's not about cars. Google Ventures has invested $250million. They are doubling down.

— Randy Milanovic (@kayak360) September 17, 2014
.@jowyang's collaborative economy. #socialshakeup Share, Trade, Maker… You don't need anything that your neighbour doesn't already have.

— Randy Milanovic (@kayak360) September 17, 2014
.@jowyang #socialshakeup Past: Internet Era, Now: Social media Age, Emerging: Collaborative Economy

— Randy Milanovic (@kayak360) September 17, 2014
---
#socialshakeup Viral Rule #4: Apply the rules of Improv. Deliver the unexpected. @bryankramer #h2h pic.twitter.com/hMAsk50EEn

— Randy Milanovic (@kayak360) September 17, 2014
#socialshakeup Viral Secret 1 Have a simple concept, 2 Have a structured plan, 3 Invite people to the party, 4 Think Improv. @bryankramer

— Randy Milanovic (@kayak360) September 17, 2014
#SocialShakUp @bryankramer #H2H there's no more B2B

— Randy Milanovic (@kayak360) September 17, 2014
---
#SocialShakUp @robincarey "Social is really more than just a job."

— Randy Milanovic (@kayak360) September 17, 2014
Former IBM Senior Advisors Launch Brands Rising to Build Employee Advocacy Programs via @robincarey //t.co/maAsBzfSWk

— Randy Milanovic (@kayak360) September 17, 2014
5 Hours Into the Social Shake-Up, 5 Takeaways on Content Creation via @plbmedicus //t.co/79TQoIPwoZ

— Randy Milanovic (@kayak360) September 17, 2014
#socialshakeup things are changiiiinnnnngggggg pic.twitter.com/3cOnMCKbms

— Randy Milanovic (@kayak360) September 16, 2014
#SocialShakUp live sketching! Of our panel. pic.twitter.com/ppF2ptpjXr

— Randy Milanovic (@kayak360) September 16, 2014
---
.@jeffdachis agrees the greater value of a focused audience on @socialmedia2day vs general audience on @LinkedIn #pulse is enormous

— Randy Milanovic (@kayak360) September 16, 2014
#socialshakeup the future of social business panel: @VanessaDiMauro of Leader Networks @jeffdachis of Jeffery Dachis and Renee Ducre of IBM

— Randy Milanovic (@kayak360) September 16, 2014
#socialshakeup guest Jeff says the time for "social" as a cliche is over. pic.twitter.com/JuZ6LZj8BM

— Randy Milanovic (@kayak360) September 16, 2014
---
"@dgingiss: talking abt blogging on @socialmedia2day driving real biz leads w/better conversion rate vs #LinkedIn #socialshakeup" WAY BETTER

— Randy Milanovic (@kayak360) September 16, 2014
---
Community is not about demand-gen or marketing. It's about connecting with people. – @JeanetteG HootSuite #socialshakeup

— Randy Milanovic (@kayak360) September 16, 2014
.@petra1400 of @Polycom says she assigns individuals to specific LinkedIn groups to monitor conversations and jump in on them

— Randy Milanovic (@kayak360) September 16, 2014
.@mariapoveromo responds to my question around community sponsorship by big brands, "That's a slippery slope." #socialshakeup

— Randy Milanovic (@kayak360) September 16, 2014
What are you doing to support your community offline? #socialshakeup #hootups @JeanetteG will sponsor up to $300 for HootSuite events

— Randy Milanovic (@kayak360) September 16, 2014
#socialshakeup it's not always smart to build a community so much as participate in others

— Randy Milanovic (@kayak360) September 16, 2014
Hootsuite's @JeanetteG: We work very hard to get out there. Polycon's @petra1400: use listening to find advocates and reach out to them!

— Randy Milanovic (@kayak360) September 16, 2014
Discussions get much more personal offline than online, and even more personal one-on-one @mariapoveromo #socialshakeup

— Randy Milanovic (@kayak360) September 16, 2014
Our goal is to celebrate our users – a big bear hug @petra1400

— Randy Milanovic (@kayak360) September 16, 2014
---
The learning organization : CEOs and frontline workers must drop the formalities and just talk. #SocialShakUp

— Randy Milanovic (@kayak360) September 16, 2014
Cultural drivers at all levels required to make it work. #socialshakeup

— Randy Milanovic (@kayak360) September 16, 2014
Go to your CEO and ask them how your efforts play into the bigger picture. What's the vision of the organization? #socialshakeup

— Randy Milanovic (@kayak360) September 16, 2014
Over extend data to outpace the competitor. Restricting it closes you down and gives them an edge. This isn't 1990 any more. #socialshakeup

— Randy Milanovic (@kayak360) September 16, 2014
Information flow much be as organic internally as it is externally – stop controlling/restricting data/knowledge to grow. #socialshakeup

— Randy Milanovic (@kayak360) September 16, 2014
Message to leaders: we're working harder, not smarter. #socialshakeup spread decision-making around

— Randy Milanovic (@kayak360) September 16, 2014
We were fortunate that leadership was engaged enough to know that the old way wasn't working any more. – Chis Fussell #socialshakeup

— Randy Milanovic (@kayak360) September 16, 2014
By the time the "process doc" gets approved its out of date. Can decision making happen at the front? #socialshakeup @SimonPearceLive

— Randy Milanovic (@kayak360) September 16, 2014
#socialshakeup @MargoDrakos and Chris Fussll talk w @SimonPearceLive about connecting CEOs and the frontline. pic.twitter.com/NMmCFSIbsG

— Randy Milanovic (@kayak360) September 16, 2014
#socialshakeup @MargoDrakos (#diduknow Margo is a Cellist?) The world is broadly networked – CEOs need to come to the trenches.

— Randy Milanovic (@kayak360) September 16, 2014
#socialshakeup @MargoDrakos and Chris Fussel of McChrystalGroup talk "How to sell your CEO on Collaboration" mod: @SimonPearceLive

— Randy Milanovic (@kayak360) September 16, 2014
#socialshakeup @MargoDrakos and Chris Fussel of McChrystalGroup talk "How to sell your CEO on Collaboration" mod: @SimonPearceLive

— Randy Milanovic (@kayak360) September 16, 2014
---
#socialshakeup socialROI //t.co/RqIxcpAKTV pic.twitter.com/eMofPfIguh

— Randy Milanovic (@kayak360) September 16, 2014
#socialshakeup @jay_bartlett – "we have to stop the low value work requested of us"

— Randy Milanovic (@kayak360) September 16, 2014
#socialshakeup @jay_bartlett – If social media managers reported on their impact to the bottom line, we'd get funding.

— Randy Milanovic (@kayak360) September 16, 2014
#socialshakeup @LABrunner is asked, "Are you in IT or Business?" Her answer, "Yes!"

— Randy Milanovic (@kayak360) September 16, 2014
#socialshakeup @jay_bartlett Mgmt has a drive-to-web perspective. There are dangers around product centric content and tools vs. techniques.

— Randy Milanovic (@kayak360) September 16, 2014
---
#socialshakeup non-visual brands like finance: find your brand affinity and present that. Appeal to buyer's triggers. #affinityconcept

— Randy Milanovic (@kayak360) September 16, 2014
#socialshakeup brands:sell a lifestyle. Invest in social like you would in TV or Print ads. Have #qualitycontent 'at-the-ready'.

— Randy Milanovic (@kayak360) September 16, 2014
#socialshakeup image types: millennials: bold/simple/humour, older: soft pretty, emotional @justWinkCards

— Randy Milanovic (@kayak360) September 16, 2014
#socialshakeup surprise and delight : show behind the scenes/raw pics on Instagram! Polished visuals on Pinterest + slip in promos(?!)

— Randy Milanovic (@kayak360) September 16, 2014
#socialshakeup The best platform for visual: whichever one your prospects are in.

— Randy Milanovic (@kayak360) September 16, 2014
#socialshakeup Use @reddit for trending content.

— Randy Milanovic (@kayak360) September 16, 2014
#socialshakeup teens have favourite songs, not brands. It's about the favourite of the day, over the favourite.

— Randy Milanovic (@kayak360) September 16, 2014
#socialshakeup #fanfiction is the big competition to traditional AND trad/social

— Randy Milanovic (@kayak360) September 16, 2014
#socialshakeup hold the button to get an extended play – talk about user engagement – side note: on our mobiles= #personalprimetime

— Randy Milanovic (@kayak360) September 16, 2014
#socialshakeup #viralamplification happens when you leverage the memes #getvisual

— Randy Milanovic (@kayak360) September 16, 2014
#socialshakeup many agencies are staffing up lighter content studios @justWinkCards more emphasis on creating original content

— Randy Milanovic (@kayak360) September 16, 2014
Forget branded hashtags. People respond to #organic ones. @justWinkCards

— Randy Milanovic (@kayak360) September 16, 2014
#Facebook's algorithm isn't friendly to brands – what trends on #twitter, flames out on Facebook

— Randy Milanovic (@kayak360) September 16, 2014
#socialshakeup managing social slip-ups: use promoted tweet/post of your apology #reputationmanagement #mountaindew

— Randy Milanovic (@kayak360) September 16, 2014
---
#socialshakeup @jasonlankow how you communicate insights REALLY matters

— Randy Milanovic (@kayak360) September 16, 2014
#socialshakeup marketers are taking action every day. Provide data insights to marketers. Ask Saas companies to teach you about the data.

— Randy Milanovic (@kayak360) September 16, 2014
#socialshakeup @satyakri too many things going on for any one person or committee to grasp. Use metrics and work backwards.

— Randy Milanovic (@kayak360) September 16, 2014
#socialshakeup @dougino the black box approach doesn't work. Sales/marketing will clash.

— Randy Milanovic (@kayak360) September 16, 2014
#socialshakeup @WendySLea we are in a tsunami of unstructured data. After you listen to me, what then? How does that become better service?

— Randy Milanovic (@kayak360) September 16, 2014
#socialshakeup @jasonlankow We asked ourselves, "why the hell are we doing this?" #culturemarketing as an undercurrent of guidance.

— Randy Milanovic (@kayak360) September 16, 2014
#socialshakeup @jasonlankow infographics have become increasingly complex, when they were originally intended to simple

— Randy Milanovic (@kayak360) September 16, 2014
#socialshakeup @mktgwithmeaning STOP CHECKING THE BOX! Do things that have meaning to your prospects.

— Randy Milanovic (@kayak360) September 16, 2014
#socialshakeup @mktgwithmeaning LOGIN FATIGUE: how many dashboards to you need? If it's on a screen, it will be automated.

— Randy Milanovic (@kayak360) September 16, 2014
#socialshakeup @mktgwithmeaning don't just give them what they say they want. Give them what they need.

— Randy Milanovic (@kayak360) September 16, 2014
#socialshakeup @mktgwithmeaning process vs. shiny object. The world is not black and white. Break out of that!

— Randy Milanovic (@kayak360) September 16, 2014
#socialshakeup @satyakri brands that delegate their social efforts 100% to brands are making a big mistake (boy, do I ever agree!)

— Randy Milanovic (@kayak360) September 16, 2014
#socialshakeup @satyakri big brands have been creating social silos. Social marketers need to make themselves more relevant.

— Randy Milanovic (@kayak360) September 16, 2014
#socialshakeup @dougino the third stage: analytics (using the web as a CRM database – can we use the data to make the right decisions?)

— Randy Milanovic (@kayak360) September 16, 2014
.@WendySLea marketers can lead #innovation: driving change, by connecting data, analytic sand customer insight #socialshakeup

— Randy Milanovic (@kayak360) September 16, 2014
Big brands… need to ask "what the f&#% are we doing wrong?" [cable companies] @briansolis #socialshakeup @socialmedia2day

— Randy Milanovic (@kayak360) September 16, 2014
---
{{cta('109ae00e-5dc7-4bb4-ad04-207e28df0d76')}}